Setting Up a Partner Account
This topic describes how a new partner account is created for access to VantageTransact.
Partner account overview
A partner account centralizes the control and management of multiple organizations through one portal. Partner administrators can view top-level data for their end customers and provision and manage services for any organization they administer.
Partner accounts are created:
After all legal terms and conditions are approved.
Without any existing services.
Important
An existing direct customer account cannot be converted to a partner account.
Request a partner account
Contact your Megaport sales team to create a new partner account and configure settings corresponding to that account. For a list of settings, see Feature access and views by account type.
After the partner account is created, Megaport provides the VantageTransact portal account details to the user assigned the Company Admin role via email.
Getting started in VantageTransact
Once a partner is enrolled in PartnerVantage, Megaport sets up the partner account in VantageTransact. The partner designates a primary user, who receives an automatically generated email from VantageTransact with their login credentials and a reminder to change their password.
After your partner account has been created and you've received your login credentials, you must log in to the account, create a company profile, and set up billing markets. For details, see Adding a Company Profile and Enabling Billing Markets. Your partner account was registered when Megaport created it.
When logged into a partner account, the VantageTransact portal displays Partner Account in the upper-left corner and the Partner Admin tab becomes available.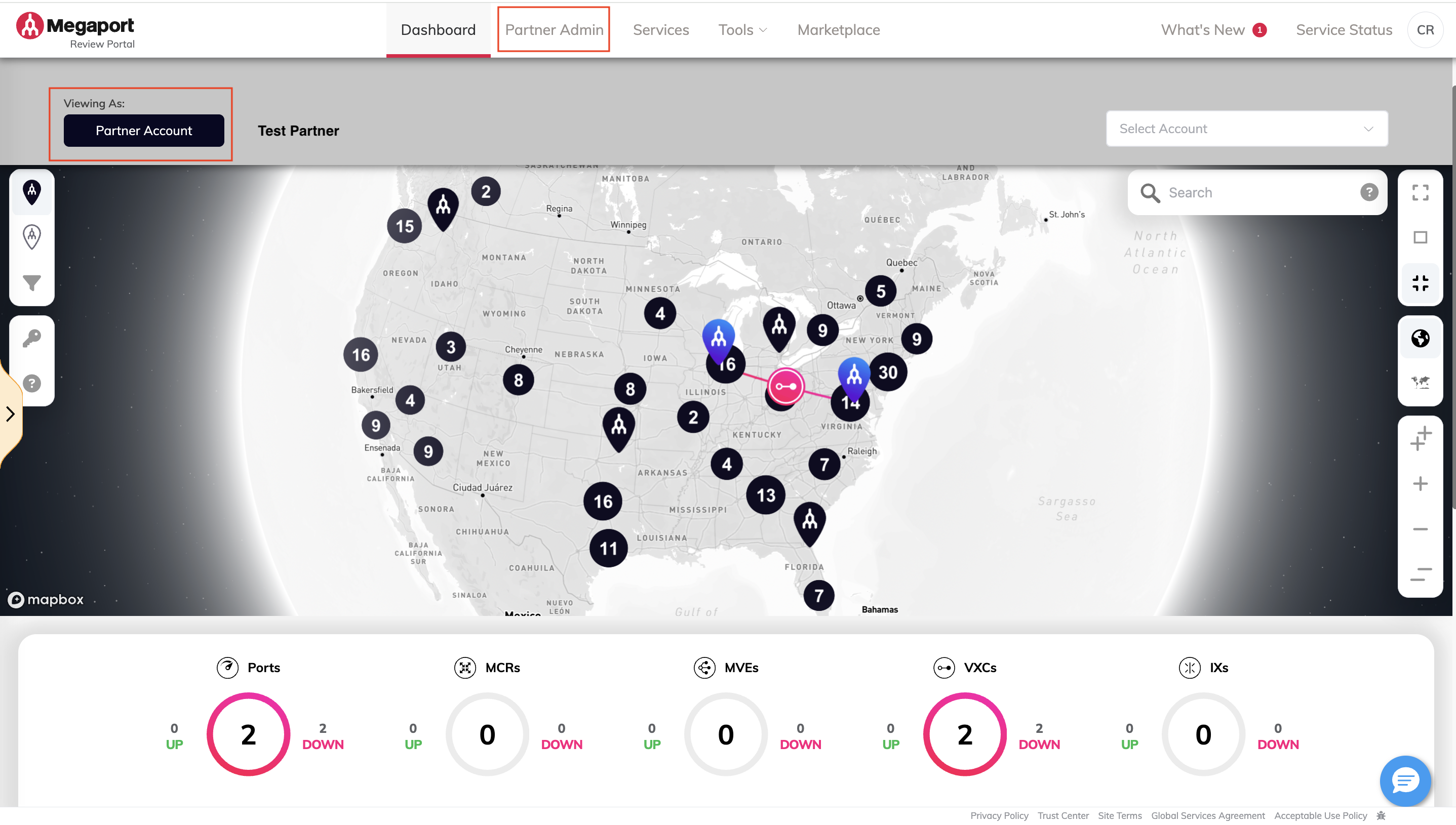 Tip
To enable all data center locations, set up all billing markets.
Verifying your company and company admin details
Before setting up managed accounts, make sure that all of your details are correct in the partner account.
To verify partner account details
Choose Company > Company Profile and verify the details.

Choose User Profile under your user name and verify the details.

Choose Company > Technical Support Details and verify the phone number and email address.
---